ENAC designates eBee 'harmless' in major boost for commercial operators
High professional drone by senseFly

The eBee is a SenseFly drone. It has a flight time of up to 45 minutes allowing to cover areas of up to 10sqm in a single flight.
With it's 18 MP camera it can shoot aerial imagery at down to 3cm/pixel resolution.
The images can then be used into photogrammetric processes to create maps and elevation models with a precision of 5cm.
Main differences between Swinglet and eBee are:
each battery autonomy: 30 min (Swinglet) / 45 min (eBee)
radio link: 1.3 Km (Swinglet) / 3 Km (eBee)
wind resistance: 25 Km/h (Swinglet) / 45 Km/h (eBee)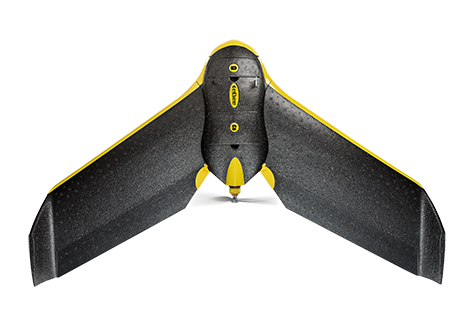 Main features
96cm wingspan
less than 700g take-off weight
18MP camera, electronically integrated and controlled
Lithium polymer battery
45 minutes of flight time
36-57km/h (10-16m/s) cruise speed
Up to 45km/h (12m/s) wind resistance
Up to 3km radio link
Covers up to 1.5-10km2
Linear and circular landing
Proprietary easy system to plan and simulate the flight
Oblique images
Image resolution of 3-30cm/pixel (depending on flight altitude)