Survey-grade aerial mapping
RTK can collect aerial photography to produce orthomosaics & 3D models with absolute accuracy down to 3 cm without Ground Control Points. The eBee RTK features a built-in L1/L2 GNSS receiver. This allows it to receive correction data from most leading brands of base station.
The eBee RTK can be used in either of three different ways:
Real Time Kinematic (positioning the base station on a known position)
Virtual base station (requires internet connection & VRS/Ntrip network subscription)
Post processing (on-site or in the office later)
The eBee RTK has a flight time of up to 40 minutes, allowing it to map areas of up to 8 Km2 in a single flight. It includes a 16 MP camera as standard for shooting aerial imagery at down to 3 cm/pixel resolution. These images are used to create maps and elevation 3d models with accuracy of down to 5 cm.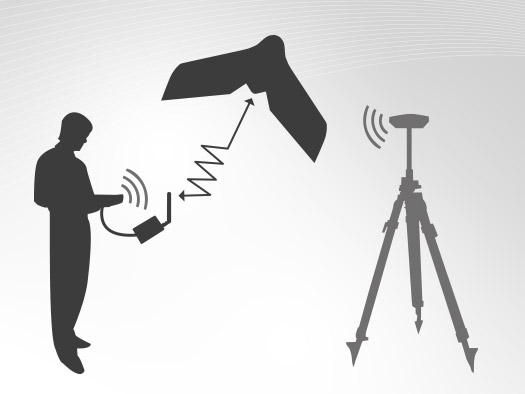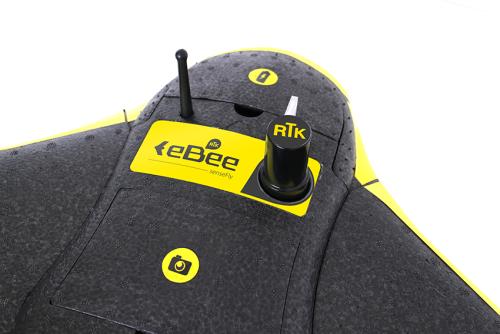 Main features
96 cm (38 in) wingspan
0.7 kg (1.5 lbs) weight
16MP still camera (electronically integrated & controlled)
Lithium polymer battery
Maximum flight time of 40 minutes
36-57 km/h (10-16 m/s) cruise speed
Up to 45 km/h (12 m/s) wind resistance
Up to 3 km (1.9 mi) radio link
Cover up to 8 sq km (3.1 sq mi)
Linear and circular landing
Oblique images
Proprietary easy system to plan and simulate the flight
Image resolution of 3 - 30 cm (1.2 - 12 in) per pixel